I started playing guitar when I was 11 or 12, thanks to the teachings of my great master: my father Franco. In 1997 I wrote my first song: Stella. It was the 10th of August, and I was at Rossal School of Fleetwood, England, for a study-holiday.
In the meanwhile I was playing with a several other folks from Viterbo province. However, the musical contexts which have influenced me more have been:
my high school band (I.T.C.G. "C.A. Dalla Chiesa");
the lot of nameless bands whose members were almost everytime the guitarist Emanuele Giraldo (Gettone), the drummer Marco Scarino or Flavio Nicolai, but often enough anyone played the part of drummer for a day.... :), the keyboarder Francesco Minciotti, the guitarist Luca La Corte and me;
the "Discordia" band (they only named the band this way after I stopped playing with them), where I played bass guitar;
the "Fuori Quota" band, that I founded with the drummer Flavio Nicolai and the bassman Michele Cevolo;
the "Amici di Bacco" band, that we founded togheter with Michele Cevolo and the guitars Luca Carloni after the "Fuori Quota" break-up.
Throughout this musical journey I have written several songs. Unfortunately I couldn't always play them with the bands I had, wich increased my wish to become a singer-composer.
From 2001, the year of the "Fuori Quota" break-up, while I continued to play for a short period (2-3 months)with the Amici di Bacco, I started my soloist career.
I started playing with several musicians among those I had met along my way and others that I had heard play, but with which, for a reason or another, I hadn't yet worked with. Some of these people are: my father's cousin, the great guitarist Giampaolo Radicati, Nicolai, Cevolo, Giraldo, Scarino, the great guitarist Leonardo Canulli (that for an evening conceded me the onour to play bass guitar for me), the bassman Emiliano Natali, the singer Angelo Lucchetti, the singer Fabiana Sportoloni, my "fraternal friend", nevertheless the greates keyboarder in Montefiascone (and I believe in the whole province of Viterbo) Mirco Cicoria and many others...
After some time, I started to have a band of my own. The members were:
Bass-guitar: Emiliano Natali
Drums: Marco Scarino
Guitars: Emanuele Giraldo
Keyboards: Mirco Cicoria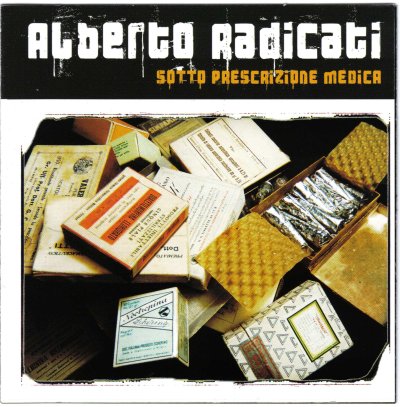 Since 25/08/2003 I have been associated to
SIAE
.
Finally, in May 2005, finally came out my first demo CD:
"La stella"
.
In the
cd
you can find 4 songs, which you can download free
from here
:
Stella
Canzone dolce
Dentro di me
Il capoufficio
In the summer of 2006, for organization reasons, the band broke up and only Mirco and Emanuele still play for me at this time.
Also during the summer of 2006, exaclty in August, I started recording my first album:
"Sotto prescrizione medica", which has come out in February 2007. Several musicians from the province of Viterbo have partecipated in the reconding: Chiara Celestini's vocals in two songs.
Federico Lacerna's sax in one; Alessandro Giraldo sings in "Steso sul pavimento", song we wrote togheter, while Andrea Durantini plays the bass in two songs.
My "fraternal friend" Gabriele Marianello accompanies me with the bass in three songs. Luca Giraldo also accompanies me with the cajon in another song. Of course, those who always "appear" throughout my album are Mirco Cicoria and Emanuele Giraldo playing keyboards adn electric guitars.
The productor of this album is Emanuele Giraldo at the TechnoG studio and the magnificent cover was realized by Leonardo Breccola